Faculty of Graduate studies would like to invite the postgraduate students to apply for


"Brand Ambassador of Graduate Studies 2019".

The application is available from now – the 19 of January 2019.

"Grab your chance to improve yourself and our university"



Please read the "Project information" for applicants' qualification and project schedule.





Subscribe Facebook fanpage for more information
https://www.facebook.com/BrandAmbassadorMU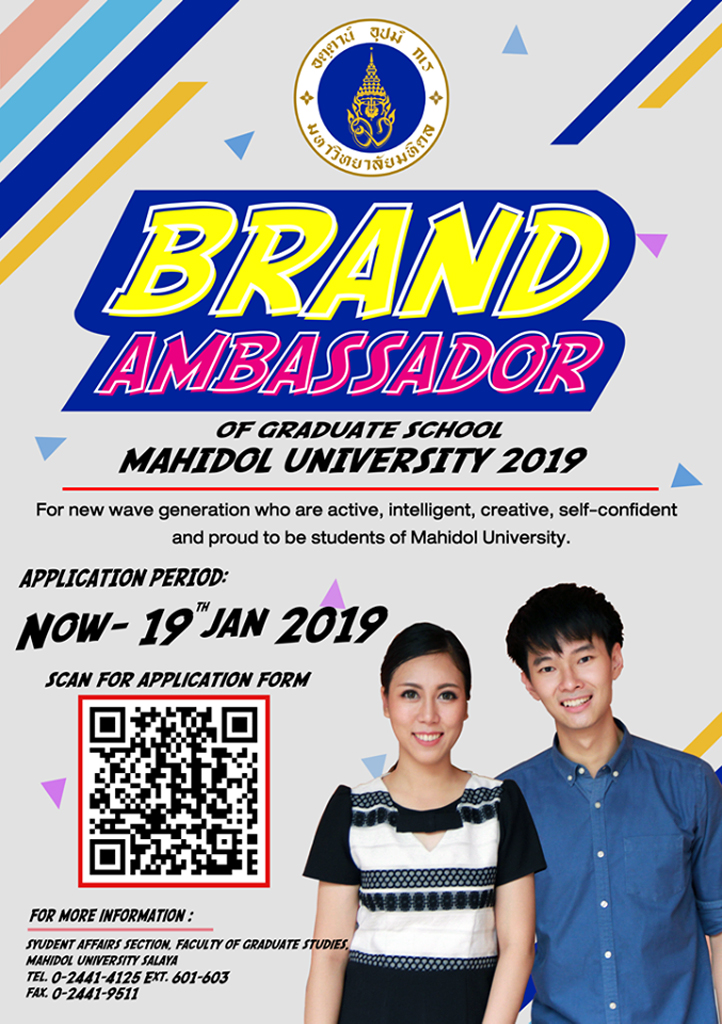 Project information
Applicants' Qualification
The applicants must be presently the postgraduate students at Mahidol University.
The applicants must show well behavior, good personality, and self-confidence and have no educational
issues to work as the Brand Ambassadors of Graduate Studies.
The applicants must have no health issues to attend the Brand Ambassadors activities.
The applicants must be able to demonstrate English language skills.
**The applicants must be able to attend the Brand Ambassador activities as described in the
"Brand Ambassador schedule" section.
Application Documents
Online application form (from the "Application" section)
Two colored photos, 1 whole body photo and 1 half-length photo, must be uploaded in the online
application form.
Brand Ambassador Schedule
Orientation of the Brand Ambassador Applicants

Date: the 26 of January 2019 (08.00-16.00)
Details: Orientation about the Brand Ambassador missions, USR projects, taking photos for popular votes, group project presentation
Preparation: two formal clothes, white shirt and blue shirt for popular votes photos.



Brand Ambassador for University Social Responsibility(USR)

Dates: (choose only 1 day) the 6, 13, 24, 27 of February 2019
Details: Group project for USR at Suwannaram school, Nakornpathom
Preparation: (information will be provided on the Orientation day)



Brand Ambassador popular vote

Dates: March - April 2019
Details: Launching the popular votes for the Brand Ambassador on social media and websites
Preparation: (information will be provided after the USR project)



Brand Ambassador Camp and talent presentation

Dates: May 2019 (2 days,1 night)
Details: Camp activities for Brand Ambassadors and special abilities presentation
Preparation: (information will be provided after the USR project)



Announcement of the Brand Ambassador awards

Dates: June – July 2019
Details: Announcement of the five awards for Brand Ambassador 2019
Preparation: (information will be provided after the Brand Ambassador Camp)