Your Scholarship Opportunities is Available Now!!


On-site Interview and Active Recruitment Registration

Register to join the onsite interview @ Cambodia, Indonesia, Nepal and Myanmar
On-site Interview and Active Recruitment Registration available now :
The registration will be closed 2 days before the interview date of each venue.
The scholarship will be offered for selected candidates based on the academic merit and availability of funds. The scholarship would cover part or whole of the tuition fees and other related academic fees. In addition, some outstanding candidates will be offered monthly stipend of 2 years for Master's programme and 3 years for PhD programme.
Venue
Country (City)
On-site Interview Date
Venue
Application Deadline
Cambodia (Phnom Penh)
26 January 2019

Juliana Hotel Phnom Penh
16 Juliana 152 Road, Sangkat Vealvong, Khan 7 Makara
(near Batook School), Phnom Penh, Cambodia
24 January 2019
Indonesia (Jakarta)
2 February 2019

CIPUTRA HOTEL JAKARTA
Jalan Letnan Jenderal S. Parman, Tanjung Duren Utara, Grogol petamburan, RT.11/RW.1, North Tanjung Duren, Grogol petamburan, West Jakarta City, Jakarta 11470, Indonesia
31 January 2019
Indonesia (Bali)
4 February 2019

PRAMA SANUR BEACH BALI
Jalan Cemara, Sanur, Denpasar Selatan, Sanur Kauh, Denpasar Selatan, Sanur Kauh, Denpasar Sel., Kota Denpasar, Bali 80228, Indonesia
2 February 2019
Nepal (Kathmandu)
2 March 2019

Annapurna Hotel
PO Box 140 | 1245 Durbar Marg Kathmandu – 1 | 44600 | Nepal
27 February 2019
Myanmar (Yangon)
9 March 2019

Chatrium Hotel Royal Lake Yangon
40 Nat Mauk St, Yangon
7 March 2019
* The interview of all venues starts 9.00 local time (morning session).
Active Recruitment and Application Process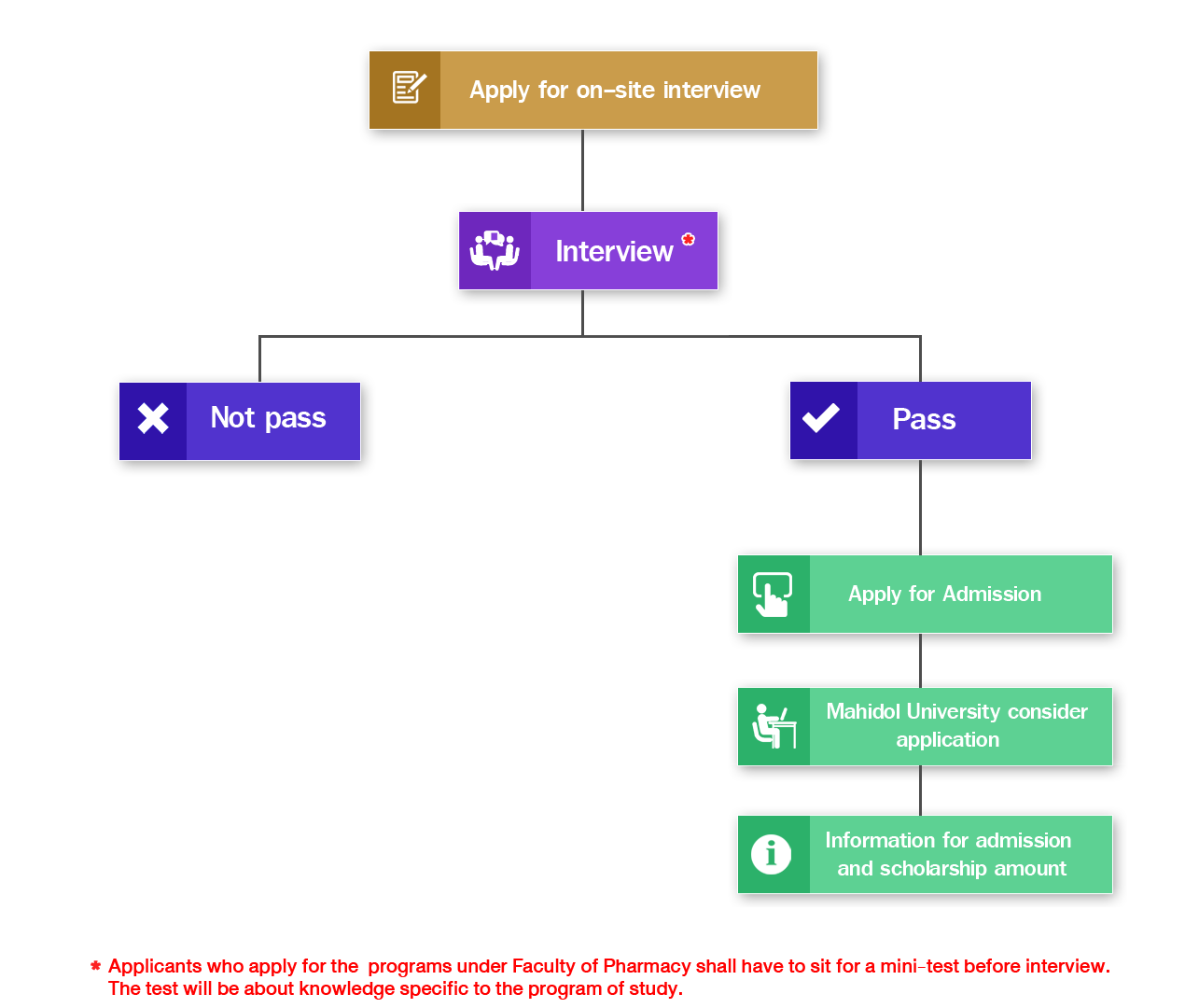 Postgraduate Programmes
Qualified candidates may be offered acceptance and to be enrolled at Mahidol University, starting in the Academic Year 2019 in the following fields.
Register to join the onsite interview (Postgraduate Programme)
---